And you thought that I had just one hobby!

Gardening happens to be one of my very favorite activities. It's refreshing and fulfilling to be outside in the spring time in Maryland. What a relief after being inside all winter!



Gardening is where I get the bulk of my exercise. I garden as soon as the last frost is over and don't stop until the next frost, about seven months.



This is my favorite flower -- a rose named "Sterling Silver", it has a silvery lavender color and the most beautiful, intoxicating smell in the world! And...it's a Scratch n' Sniff. That's right, just point your mouse on the rose and inhale deeply.

I've been an avid gardener since 1981, which is the year I got married. However, my love of gardening and growing flowers goes back much longer. I planted my first garden in 1964, when I was just 5 years old.

My mother bought some packets of annual seeds and she tilled a spot near the kitchen door. Then she said "Wait until tomorrow and I'll help you plant the seeds". Well, that wasn't good enough for impatient lil' ole' me! As soon as her back was turned, I grabbed the seeds and happily scattered them all over the empty garden bed.

The next morning my mom asked me where the seeds were. "I planted them already". She just smiled and said "Okay, we'll see what happens." Every morning, before the family awoke, I ran outside to check my seeds, which became seedlings and eventually turned into flowers. My favorites were (and still are) the zinnias. I was hooked and to this day I love the look of a mass of different species growing together like a giant living bouquet.

While raising kids takes about 18 years per child, I can plant a seed and in a matter of weeks - smell the flowers and eat the fruits or vegetables of my labor. Practically instant gratification! We moms need that. ;)






Plants that are in my garden

I am what you would call a "specimen gardener". That means I want one of each plant that exists on earth growing somewhere in my yard. My mom pointed out that the most dramatic floral displays are when you have a mass planting. So now my goal is to have a lot of different mass plantings. We have a decent sized backyard, surrounded by a split rail fence. The plan is to someday have something growing all the way around the yard. The fence has chicken wire nailed to it to keep the dog in. The wire makes a great trellis for plants.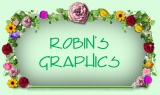 Contact Webmaster@Robin's Web with questions or comments regarding this site.
Copyright©1997 Robin L. Olson, Robin's Web, All Rights Reserved.