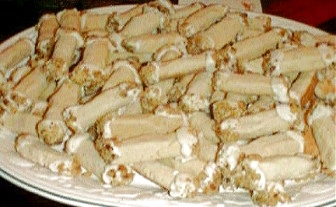 Debbie Griffith's
Egg Nog Logs
1 Cup Butter
3/4 Cup Sugar
1 large egg
2 tsp vanilla
1 teaspoon rum flavoring
3 cups flour
1 tsp ground nutmeg
Vanilla frosting
3/4 C chopped pecans
Beat butter, cream sugar, then add egg and rum flavoring, mix well.
Add combined flour and nutmeg. Gradually add to wet ingredients.
Divide dough into 10 portions, roll into ropes 15 inches long.
Cut into 5 logs. Bake on ungreased sheet at 350 degrees, 10-12 minutes.
Cool. Dip ends into frosting, roll in nuts.
Frosting:
1/4 Cup butter
2 Cups powdered sugar
2 tablespoons milk
1 tsp vanilla

(From my 1998 Exchange)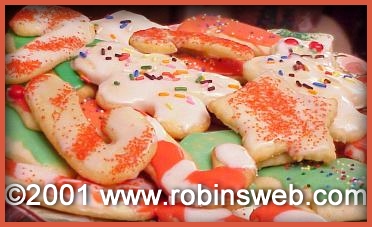 Christmas Sugar Cookies
1 1/3 c butter
1 1/2 c sugar
1 tsp. grated orange peel
1 tsp. vanilla
2 eggs
8 tsp. milk
4 c sifted flour
3 tsp. baking powder
1/2 tsp. salt


This is the best recipe for cookie cutters there is!

Cream shortening, sugar, orange peel & vanilla
add egg & beat til light & fluffy, stir in milk
sift together dry ingredients & blend in cream mixture.
Divide dough in half, chill one hour. Roll out, (not too thin) use cookie cutters.
8-10 minutes in oven. 375 degree. Yield: 6 dozen

Icing:
1 lb confectioners sugar
pinch of cream of tarter
Enough milk to thin, slowly pour and stir, until you get the desired consistency.
Red and green food coloring, use plain white, too




Christmas Wreath Cookies

3 cups miniature marshmallows
1/2 cup butter
1/2 tsp almond extract
1/2 tsp vanilla extract
1 tsp green food color
4 cups corn flakes

1.Melt butter, add marshmallows.
2.When mixture is smooth, add extracts, coloring and cereal.
3.Butter your clean fingers. Shape into wreaths on wax paper on a cookie sheet.
4.Decorate with red cinnamon candies and silver balls.
5. Refrigerate to set.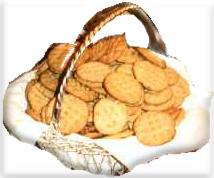 Peanut Butter Cookies
(This is my all time favorite cookie! I gain 5 lbs every year from eating these.
Betcha can't eat just one! It's from my husband's paternal Grandmother Olson
and given to me by my mother in law, Sylvia.)

Ingredients:
2 1/2 C Flour
1 1/2 tsp. baking soda
1 C soft butter
1 C crunchy peanut butter
1 C lt. brown sugar, packed
1 C granulated sugar
2 eggs
2 tsp. vanilla

Directions: Preheat oven to 375 F.
1. Mix flour and baking soda, set aside. Mix all other ingredients in another large bowl until smooth and fluffy.
2. Pour the flour slowly into the wet ingredients until thoroughly combined.
3. Chill for one at least one hour.
4. Roll the dough into 1 inch balls.
5. Dip fork tines in flour and criss cross each ball, flatten with fork.
6. Bake for 8-10 minutes.
6. Remove from oven, cool and serve.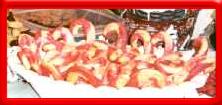 Candy Canes

Ingredients:
1/2 c. butter, softened
1/2 c. shortening, softened
1 c. confectioners sugar
2 1/2 c. unsifted all-purpose flour
1 egg
1/2 tsp. salt
1 tsp. vanilla extract
1/2 tsp. red food coloring
3/4 t. peppermint extract
Topping:
1/4 c. sugar
1/2 c. finely crushed peppermint candy
1 egg white
Bake: 375 degrees, 8-10 min. 3 dozen cookies
Directions: In large bowl with electric mixer ( medium speed,) cream butter, shortening, sugar, and egg until light and fluffy. Add extracts. In medium bowl, combine flour and salt, gradually add to creamed mixture and continue beating just until combined.
Divide dough in half; add food coloring to one half, mixing well. Wrap each half in waxed paper and refrigerate at least 1 hour. Pull off about 1 teaspoon of each dough ( white and pink). On lightly floured surface, roll each portion into a 5 inch long rope. Place ropes side by side and carefully twist together.
Place on greased cookie sheet and shape to form a candy cane. Repeat with remaining dough. Bake at 375 degrees for 9-10 minutes, or until golden at edges. Remove from oven and place on wax paper. brush lightly with egg whites and sprinkle candy topping over cookies. Let cool and place in air tight container.

Spice Cookies
(4 to 5 dozen cookies)

1 package spice cake mix (18.5 ounces)
1 cup softened butter,
2 eggs
1 cup chopped pecans
1 cup sweetened flaked coconut
1 cup crushed cornflakes
1 cup rolled oats
1 cup raisins
2 tablespoons sugar

Preheat the oven to 350F. In a large bowl, combine the cake mix, butter, and eggs; mix well. Add the coconut, pecans, cornflakes,
rolled oats, and raisins; mix well. Drop the dough by rounded teaspoonfuls 2 inches apart onto ungreased baking sheets; flatten with a glass that is repeatedly dipped in the sugar. Bake for 8 to 12 minutes, or until set. Cool for 1 minute, then remove from the baking
sheets and let cool completely.




Robin, Here's a good recipe - I've taken dozens of them to cookie parties, although it's kind of hard to find egg nog between February and November. Submitted by: Gayle Michener (Thanks, Gayle!)

Egg Nog Cookies

2-1/4 cups flour
1 tsp. baking powder
1/2 tsp. ground cinnamon
1/2 tsp. nutmeg
1-1/4 cups white sugar
3/4 cups salted butter, softened
1/2 cup egg nog
1 tsp. pure vanilla extract
2 large egg yolks
1 Tbsp. ground nutmeg

Combine flour, baking powder, cinnamon and nutmeg. Mix well with wire whisk and set aside.
Cream sugar and butter until it forms a grainy paste. Add egg nog, vanilla and egg yolks and beat at medium speed until smooth.
Add flour mixture and beat at low speed just until combined (do not overmix).
Drop by rounded teaspoonfuls onto ungreased baking sheets 1 inch apart. Sprinkle lightly with nutmeg.
Bake for 20-25 minutes or until bottoms turn light brown in a 325 degree preheated oven.
Yield: 3 dozen, or thereabouts...

Hi Robin,
I am a cook in the Submarine force of the United States Navy. One of the best liked cookies that we bake while at sea is the "Crisp Toffee Bars". We have about 150 men onboard and usually end up making about 400 portions to satisfy their appetites. I am sending the recipe for you. Try these and serve them with the knowledge that the United States Submarine Community loves them and would probably not know what to do if we stopped baking them.
Enjoy! - Mark Adams By the way, I have really enjoyed your entire site!
Crisp Toffee Bars

Oven temp-350
Butter-10 oz
Brown Sugar-12 oz
Vanilla-1/2 Tablespoon
Flour-12 oz
Chocolate chips-1/2 package
Pecans (chopped)-4 oz

1. Place butter in mixer bowl, cream at medium speed 5 minutes. Add brown sugar and vanilla; continue beating 5 minutes or until light and fluffy.
2. Add flour to mixture. Mix 1 minute at low speed or until thoroughly blended. Mixture will be thick!
3. Fold in chips and nuts.
4. Spread into an ungreased pan. should be pressed out to approximately 1/4-1/2 inch in thickness.
5. Bake 25 minutes or until lightly browned.
6. Cut into bars while still hot from the oven. Remove from pan after cooled.



Vanilla Wafers (double batch)
1 cup Butter - softened
2 cups Sugar
2 eggs
2 Tbl Vanilla
2 2/3 cups All Purpose Flour
1 1/2 tsp Baking Powder
1/2 tsp Salt
In a mixing bowl cream butter & sugar. Beat in eggs and vanilla. Combine dry ingredients. Add to mixture, mix well. Drop by Tablespoon fulls 2 inches apart onto baking sheet. Bake at 350 degrees for 12-15 minutes or until edges are golden brown. Remove to wire rack to cool.
Eat, enjoy and share (yield about 7 dozen)
Submitted by: Submitted by Curtis Struck & Valerie Vest
My son turned me on to your lovely web site just today. While it may be somewhat late ,I notice that you do not have either of the folling recipes on your site. My holiday would not be complete without my dear mother's Rock cookies or Christmas cookies so from my house to yours . Enjoy, Faye Ennis




My son turned me on to your lovely web site just today. While it may be somewhat late, I notice that you do not have either of the following recipes on your site. My holiday would not be complete without my dear mother's Rock cookies or Christmas cookies so from my house to yours .
Enjoy, Faye Ennis

Rocks
1 1\2 cups brown sugar
1 cup butter
3 eggs
3 cups flour
1 teaspoon cinnamon
1 teaspoon baking soda in 1\2 cup hot water
1 lb. raisins (3 cups)
1 lb. dates , chopped (3 1\2 cups)
1\2 lb walnuts (1 1\2 cups)
1\2 teaspoon salt
Cream together the first 3 ingredients , add the remaining ingredients . Bake 375 till brown.




Christmas Cookies
Add 1 cup water to 2 cups raisins , Boil 5 min. (cool)
Cream
1 cup shortening of your choice
add 2 eggs
Mix well
1 teaspoon vanilla
cooled raisins
3 1\2 cups flour
1 teaspoon baking powder
1 teaspoon baking soda
2 teaspoons salt
1 1\2 teaspoons cinnamon
1\4 teaspoon nutmeg
1\4 teaspoon allspice
1 cup walnuts
Mix, chill dough in refrigerator. Bake 400 about 12 min.
Submitted by Faye Ennis